Into operation in 1997, total 78 rooms (with 71 bedrooms and 7 first-class deluxe rooms). Occupancy 85%.
– About the services of the hotel: restaurant, swimming pool, hair room, gym, fitness room, sauna massage, hydraulic tank, physiotherapy. 24/24 h time for the day.
– Rent a variety of rooms suitable to the needs of guests. The hotel has many rooms: single rooms, double rooms, family rooms suit for family.
– Tray Hotel located on the road most beautiful romantic city of Hai Phong and Lach Tray Street Urban connecting the bustling port city with the famous landscapes travel Do Son.
Located Monitoring stadium on the shores of Lake City on the old Horse Clothing now been converted into parks Youth. Located next to a campus get too stuffy, large and beautiful park, lake blue. Rhythmic coordination with the stadium, park Youth, children's home culture and Vietnamese culture and Czechoslovakia was created for the hotel Tray a favorable position. Standing on the roof of the hotel can look at the panorama of the city, the sun still look beautiful on clear mountains Son message the same horizon.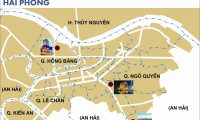 Bản đồ các khách sạn tại Hải Phòng
Khách sạn Nam Cường Hải Phòng
The information is updating. Please come back later.