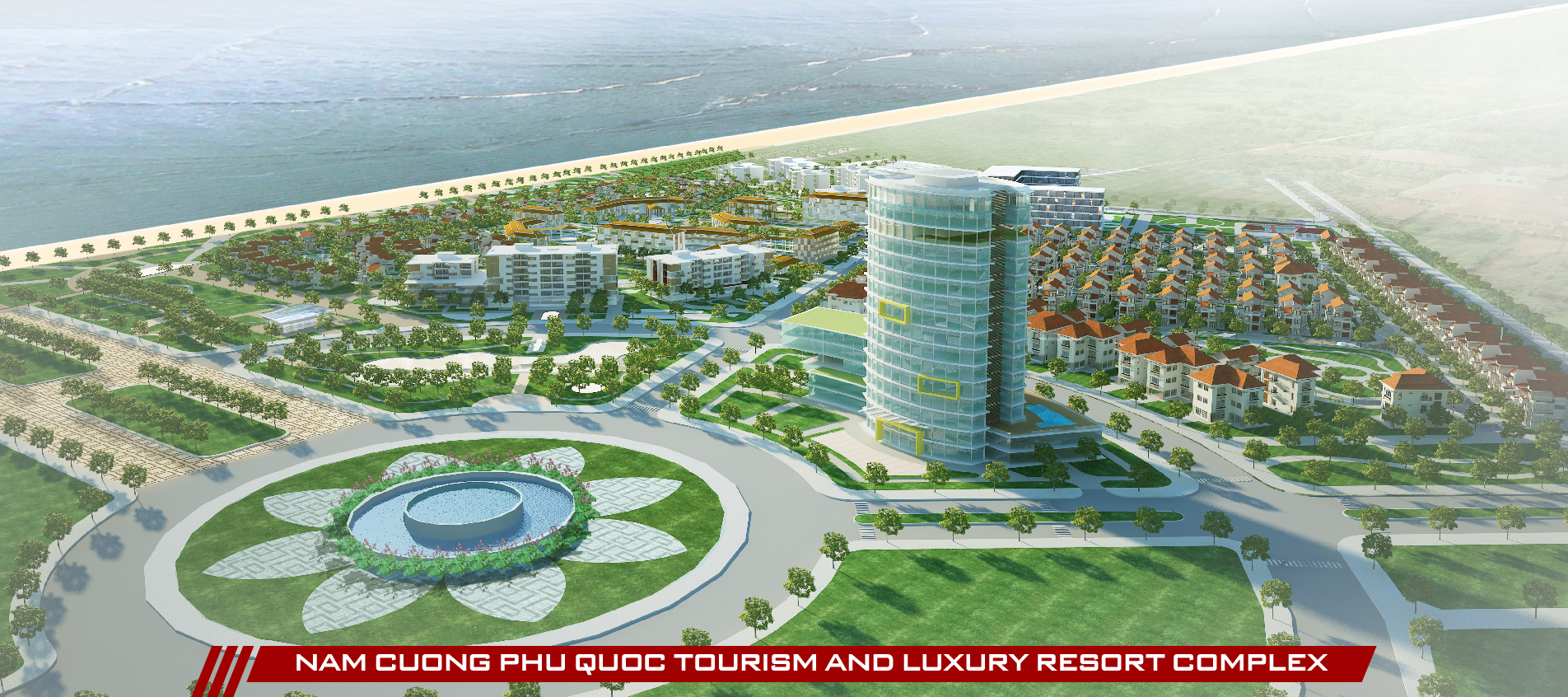 PROJECT INTRODUCTION
Location: Nam Bai Truong Resort, Duong Bao Hamlet, Duong To Commune, Phu Quoc District, Kien Giang Province
Planning area: 32.32ha
Main functional areas: Villas, Apartments for rent, Complex of Casino – Hotel – Conference Center – Entertainment
Development orientation: To become a bustling, civilized, and community-based cultural township with the goal of sustainable community development. To harmonize the values of Human – Nature – Comprehensive Development of all generations
Living Concept: Eco – Wellbeing
Core values: Education – Ecology – Commerce
DETAILED INFORMATION
Phu Quoc is strategically located in the South West of Vietnam, known as the Pearl Island because of its natural beauty and abundant tourism potential. With an area of 590 square kilometers – equivalent to the island of Singapore, Phu Quoc has a long and beautiful coastline, roughly 150 km.

Phu Quoc tourism has achieved impressive growth with an average increase of 60% per year, reaching 1 million visitors in the first 6 months of 2016, with 30% being foreign visitors.

The Prime Minister approved the project for the overall development of Phu Quoc Island with a vision for 2020, to become a center of economy, administration, trade and tourism meeting regional and international standards. To become a second-class city in 2014, Phu Quoc has been investing in its synchronous transportation system and modern infrastructure, which has helped it to become a national and regional tourist destination with historical landmarks, natural habitat zoo and luxury resorts.

Phu Quoc – Nam Cuong Tourism and Luxury Resort Complex is situated in Bai Truong, part of the World Biosphere Reserve in Phu Quoc, which was recognized by UNESCO in 2016 and features four-season tropical tourism in the region.

The project has convenient domestic, regional and international transport links; Phu Quoc International Airport, An Thoi seaport; infrastructure and technology: Submarine cable connectivity; The Duong Dong water plant which has been upgraded to minimize operating costs and facilitate the operation of enterprises. All of this has created favorable conditions for the development of tourism and real estate in Phu Quoc. It is an attractive destination for domestic and international tourists.

Phu Quoc – Nam Cuong Tourism and Luxury Resort Complex will benefit from the investment incentives of the Phu Quoc tourist area, with special mechanisms such as: 70 years lease term, attractive incentives such as a reduction of 50% PIT, CIT reduced to 10% from 22%, and a revised Housing Law allows foreigners to own real estate in Vietnam from 2016.

By the end of 2016, the investment environment in Phu Quoc attracted almost 300 investors with a total registered investment of about $8 billion. The project with golden land area of 32.32 hectares ensures ample area for investment and development, providing the highest quality services and facilities in the region and the world.