Resorts and hotels international Nam Cuong Do Son is the entertainment – the hotel is modern, full service entertainment ..
Health care with the goal to the center of human life. Located on 56,000 m2 land area of 5-star quality two areas: high 20-storey hotel and resort, including 20 home I stay at the beach full of charm Do Son, romantic, pillow top on the sunny sand filled with gold , Republic of the free waves and the wind, the fresh air ventilation, make sure Nacimex-Do Son will bring new breath to the Do Son tourist area. In the process of formation and development, Nacimex-Son always striving to become the entertainment – hotel standard 5-star international first business in Vietnam in general and Hai Phong city in particular.
The hotel features 174 luxurious rooms with advanced equipment, perfect service, including: 146 standard rooms standard, 20 suites, 7 rooms and 1 Suite room Do Son President. Hotels with Duch full service restaurant, bar, casino, swimming pool … Area health care services for you She, like you Mr. Steam matxa, hydraulic, leisure room, karaoke and utilities.
Currently, hotels are built to level 6 and the future will become senior resorts for visitors to the Son.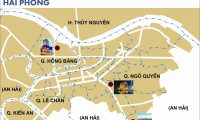 Bản đồ các khách sạn tại Hải Phòng
The information is updating. Please come back later.
All registration information needs, please contact:
HAI PHONG BRANCH 47 LACH TRAY STR - NGO QUYEN DIS- HAI PHONG CITY TEL: 84-313. 3828 555 FAX: 84-313. 3828 666
The information is updating. Please come back later.