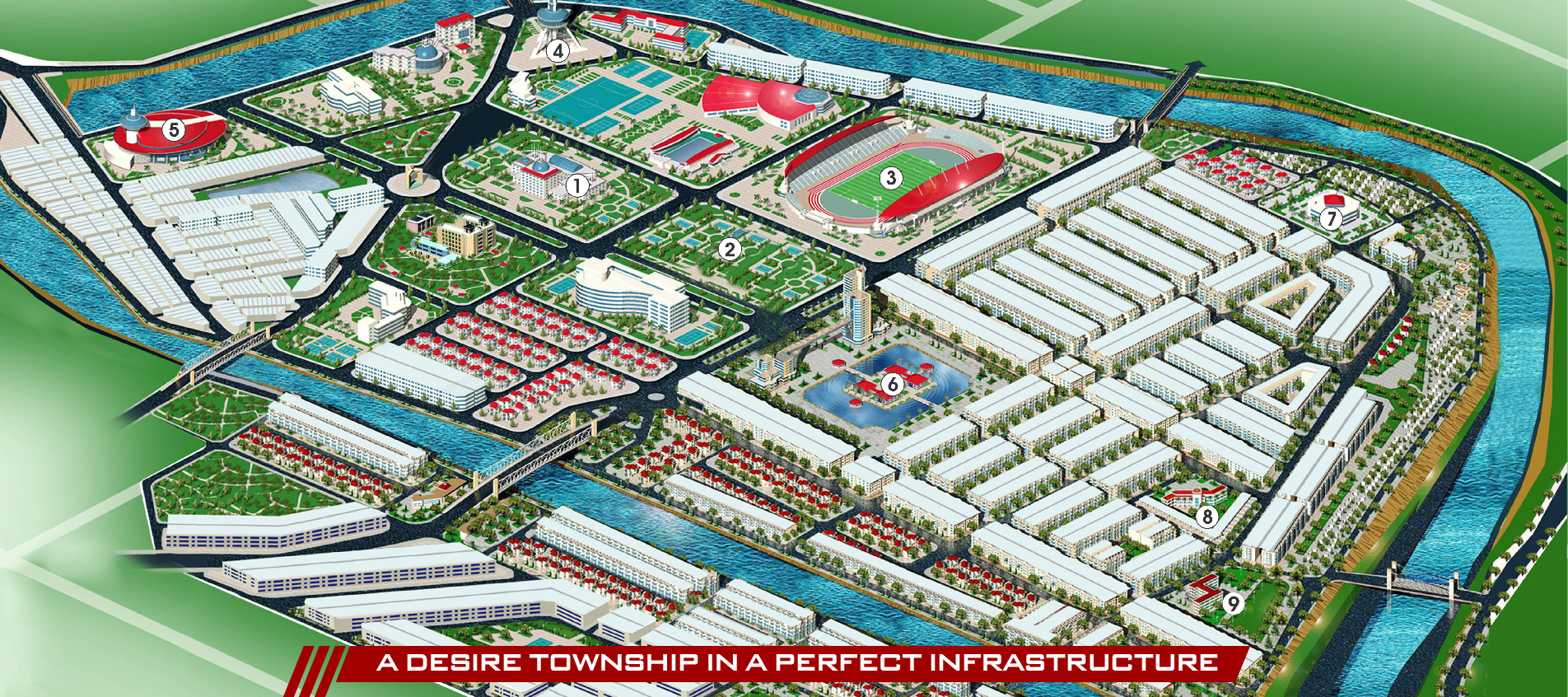 PROJECT INTRODUCTION
Location: Hai Duong City
Planning area: 138ha
Main functional areas: Apartment building, school system, convention and cultural center, eco-tourism, etc.
Development orientation: To become a bustling, civilized, and community-based cultural township. With the goal of sustainable community development. Harmonizing the values of Human – Nature – Comprehensive Development for all generations
Living Concept: Eco – Well being
Core values: Education – Ecology – Commerce
DETAILED INFORMATION
Located on an area of 108ha adjacent to the center of Hai Duong City and the 30ha sports and cultural center which is being quickly built and put into operation, the Eastern Township is going to become a new center of Hai Duong city.
With a history of more than 200 years of establishment and development, Hai Duong – a land rich in cultural traditions, has always affirmed its position in the fields of economy – culture – sports. Together with the rapid urbanization of the whole country, Hai Duong has made unceasing efforts to bring into full play its strengths and gradually build Hai Duong into a modern city.
Strategic placement, importance
The Eastern Township now has a basically complete infrastructure system. Situated on an area of 78ha adjacent to the center of Hai Duong city and 30ha sports and cultural center which is being quickly built and put into use, the Eastern Township will become a new city center of Hai Duong.
Modern infrastructure
Infrastructure in the township is a modern and synchronous design. Electrical systems, water supply, drainage and communication systems are designed underground to each household.
Complete traffic system
The 33m main road in the township is designed in harmony with the internal road system which is from 13.5m – 21.5m wide, creating residential areas and convenient travel. A 45m road connects the sports and cultural center to the main road of the city, which creates a continuous traffic system linking the new eastern township, cultural and sports center and the city center into one unity.
Fully equipped for a modern life
Situated adjacent to the cultural and sport entertainment of the city and ecological lake, the new urban area east is rich in the amenities of a modern life. It boasts a system of kindergartens, elementary schools, libraries, stadiums, stadiums, television towers – tourism, convention and cultural center, ecological lake tourism, etc.
| | | | |
| --- | --- | --- | --- |
|   No.  |   Kinds of house   |   Area   |    Facade  |
| 1 | Street side housing | 47,257 m2 | 4-6 m |
| 2 | Single villas | 47,257 m2 | 12-30m |
| 3 | Duplex villa | 220 m2 | 12 m |
The perfect habitat between nature and open air

Surrounded by the Bach Dang River and Sat River, and with modern sewage treatment systems and higher reinforced concrete flooring than adjacent areas, households in this residential area will enjoy a perfect environment of green living, fresh and completely safe from flooding in the rainy season.

A desired home on the perfect infrastructure

Architecture highlights of the Eastern Township, Hai Duong City include the harmony between the living space and the green environment, bringing nature close to people. With the rich background of the house, you can also create a dream home to your own taste. In the space of harmonious architecture, the synchronized front of each street, residents here are always living in the ideal environment.